Certification: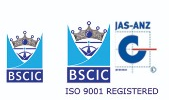 About US:
Eauchem is the NABL 17025:2017 accredited chemical testing laboratory for Water, Waste Water, soil and environmental analysis. We provide specialized services to meet our customer's requirement.
In India EAU Chemical Mfg Pvt Ltd is synonymous with water treatment chemicals. As one of the country's most successful producer of proven water treatment chemicals, we are a major supplier to more than 2000 industries today.
EAUCHEMICAL has successfully established ISO 9001-2015 certified laboratorial services division, which is fully equipped with all modern testing facilities to test all parameters of water, effluent, soil, activated carbon and all types of scale deposits, sludge, apart from soil and environmental analysis.
Given below are the lists of analysis we serve:
Water Analysis:
Drinking water as per IS 10500
Packaged drinking water as per IS 14543
Boiler water as per IS 10496
Cooling tower water as per IS 8188
Surface of Ground Water
Waste Water Analysis:
ETP & STP water as per TNPCB/CPCB
Coolent & other industrial waste water as per TNPCB/CPCB
Soil Analysis:
Agriculture Soil
Ground Soil
Environmental Monitoring:
(NAAQ / IS & CPCB)
Ambient air quality Monitoring
Stack Emission monitoring
Illumination Monitoring
Noise level monitoring



Objective:
Our venture was incorporated to cater to the complete laboratorial services related to water/waste water, soil and environmental parameters at an affordable cost with assured results.
Mission:
Our goal is to forge long-term relationship with our customers for the mutual benefit of each other by strictly adopting ethical standards in the business.
Our Quality Policy:
Laboratory management is committed to comply with ISO/IEC 17025, all applicable regulatory & statutory requirements and will continually improve the effectiveness of its management system.
The laboratory management is committed to good professional practice and to the quality of testing in servicing its customers.
All the laboratory personnel familiarize themselves with the quality documentation and implement the policies and procedures pertaining to their roles and responsibilities.



Service:
Our attitude and willingness to address any problems of our clients at once has helped our customers to forge a complete trust and confidence in us. We always strive hard to give the "Best Quality Service" to all our customers.
Safety:
The Company's practices 17 - CB-OHSMS standards for safety in their use and with concern for their impact on the environment. Accordingly, it is the Company's policy to abide by all appropriate regulations and guidelines to ensure the safety.
Stature:
EAUCHEM is one Company, you can count on for very best responsive service. The combined credentials of our Company, along with the superior standards make our company as an outstanding one in the lab services.